HIER GEHT ES WEITER ZUR DEUTSCHEN VERSION. Diese Online Klasse wird in Englisch und Deutsch gehalten.
Do you experience overwhelm as the end of the year approaches and your own Demands and Critique on your Self has increased? I remember vividly sitting in-front of a white, empty page on New Years eve wondering what to write, asking myself:
'What have I achieved? Where do I want to go from here? What are my goals?' ….Loosing some weight, finding a new job, finding a loving relationship, be happier….. Usually I ended up writing down a hurried list of half-hearted goals, which did not even survive January.
I invite you to approach 2016 in a different manner. Learn to incorporate a very easy but powerful technique used by our ancestors. In several ancient traditions we find conversations about the magical Energy starting around Winter Solstice lasting for 12 nights. These 12 nights are called 'Rauhnaechte' – ' 12 Sacred Nights'. A powerful time where energies are still and the veils between the dimensions are thinner and easier to access.  A  time were we can tap into the Universe's and our Inner Wisdom easily, and plant our Seeds, as in goals and intents, being fully supported by teh universe. As with many of ancient wisdoms we have several different accounts of when these magical days actually start. The Wisdom and Support I bring forth within this On-line Class is the inner and outer information I have been guided too. Therefore the PLANT YOUR SEEDS class lasts for 21 days, wrapping the 12 scared days and nights in creation & transformation energy. The class starts 20 December 2015 till 10 January 2016.
And I know, Christmas and New Years is a very busy and demanding time for many of us. Especially for that reason, I have created this Class in a way to support you to take time for your Self. We kick off together with a powerful Live Class on Sunday, 20 December 2015. Lifting your vibration and getting you ready for the Holiday Season ahead. Thereafter you will receive daily Emails to guide you through the class, the Holiday Season and support you to fill in your 'White Page' with meaningful Goals and Intents. The time you invest is up to YOU!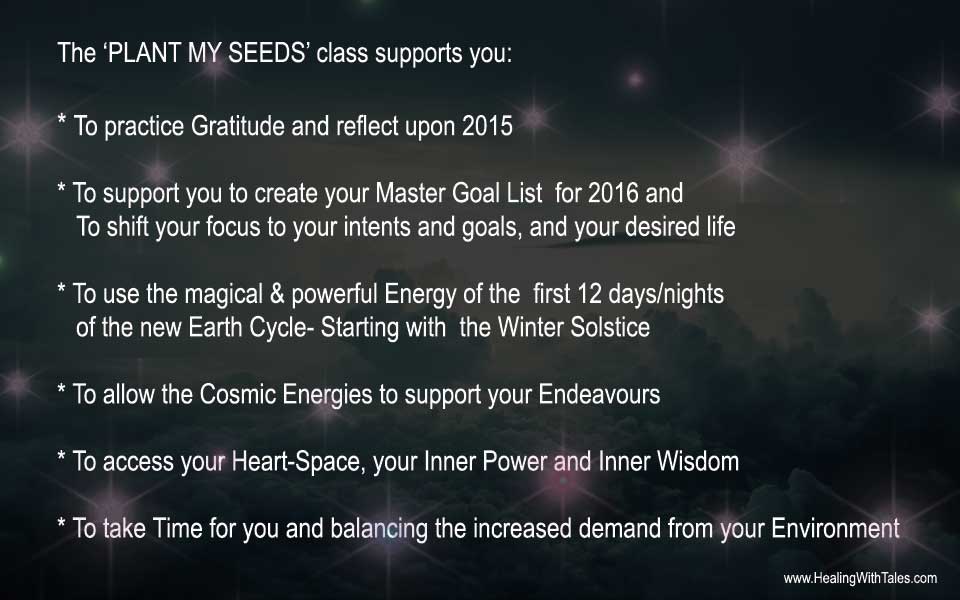 WHY 12 SACRED NIGHTS?
There are many of cycles the Planet Earth is part of. The largest cycle is the Earth rotation around the sun taking a total of 365 days (Sun Cycle).  Every year a new Earth cycle starts with the Winter Solstice on 21 or 22 December. The next smaller cycles is the Lunar Orbit- One Moon Cycle around the Earth takes 29.5 days totalling to 354 days (Lunar Cycle). The difference between the Sun and Lunar Cycle is 11 days and 12 nights, forming the 12 Sacred Nights (Rauhnaechte – 12 Sacred Nights) starting around Winter Solstice.
Each individual night correlates and is connected to an upcoming Month, Moon Cycle, Zodiac Sign, Body Party and Virtue of the upcoming year 2016. Each day Seeds, as in Goals and Intents, can be planted, using the magical Energies that are present that day and night. We work with nights, as the Night and Dream-time is even more powerful then the day.
The magic says what initially unfolds in a 24 hours cycle (a day and night) repeats itself in the next longer rhytm, the 29.5 day Moon Cycle. That is why after the restart of the Earth Cycle at the winter solstice, the first 12 days and nights are so interesting because its subtle energetic action has a tendency to repeat itself in the next 12 cycles of the moon on a lower vibrational level.
This implies, the seeds you plant on those 12 Sacred Night (Day 1 to 12) are 'manifestation infusions' for each month of the upcoming year.
For your easier understanding I will give you an example of Night 1. We start on the 22 December 2015:
Night 1 is connected to the January Moon Cycle (10.1.2016 – 8.2.2016), Zodiac Sign: Capricorn, Element: Earth, Body Part: Skin-Hair-Nails-Bones, Virtue: Humility, Career: Plant your goals .
WHAT CAN YOU DO? 
Shift your Focus to Creation Energy, remember 'WHAT YOU FOCUS ON EXPANDS!'

R

ead the daily Email, Raise your awareness to every connection of that day
With your commitment you already tap into the sacred Energies. Notice what comes up for you and write it down in your Journal. With that, also write down the Goal and Intent you are prompted to from within.
With every Email you receive a Moon Energy Journey to super-boost the goals you set for yourself. I invite you to listen to it at night, you can even fall asleep on it. And in your sleeptime get ready for the next day.
And remember the Master Goal List you are creating can be adjusted as you walk your Path through 2016.
WHAT DO YOU GET:
2 Live Call (before & after the 12 days)
Call 1 scheduled for Sunday, 20 December 2015
Introduction to the Class and a Live Healing Tale Activation.
Bonus: Practising Gratitude for 2015

Call 2 scheduled for Sunday, 10 January 2016


Reflection on the last 21 days of the PLANT YOUR SEEDS calls
Tips and Channellings for the year ahead
Bonus: Live January Moon Energy Call to support you through January
'Plant my Seeds' On-line Journal to fill in your goals and intents
21 daily Emails supporting you through the 21 day Online Class
Introduction to each individual day/night of the 12 Sacred Nights 
Important: The 12 Sacred Nights period starts 24.12.2015 – 05.01.2016, but the daily Email sequence starts at 20.12.2015.
12 Moon Energy Journey's supporting each Day n' Night
Nightly Energy Boosters supporting your goals and intents
Stellar Energy Boosts and Activation. 


I include the power of the Cosmo with the Sun, Moon and the Stars to supercharge your goals and intents.

Private Facebook Page to exchange with like-minded people
Together lets tap into the Universe's magic and receive support for all your Intents and Goals for the upcoming year 2016. Let's follow in the well guided steps of our ancestors and connect to our Environment. Let's discover what it means to truly celebrate Winter Solstice, Christmas and New Years. Let's discover what it truly means to be supported and nourished by the Universe. Let's discover to be aware of all we are connected to and live our life from that vantage point. Let's create your Master Goal List 2016 together with the Universe.
I look forward to journey with you!
PS: Make sure you grab your seat now!!!
Legal Disclaimer: Every effort has been made to accurately represent our program and its potential. Any claims made of actual earnings or examples of actual results can be verified upon request. The testimonials and examples used are exceptional results, don't apply to the average attendee/purchaser and are not intended to represent or guarantee that anyone will achieve the same or similar results. Each individual's success depends on his or her background, dedication, desire, and motivation.