Hello and Welcome! Healing with Tales is for those searching for Balance and Harmony within their life. It is for those ready to walk their Inner Journey and take on full responsibility of their life's circumstances.
I love the metaphor 'life swirls around like a huge Tornado'. A tornado consisting of Life's stories, experiences, definitions, beliefs, patterns and programs. In every moment we have the choice to react and be swirled around by life's events and situations. Or to step into the center of our individual Life's tornado. In its center we experience Inner Peace that enables us to set mindful actions towards a desired life. Within the calmness of our Tornado we will discover a perfectly shaped circle. A circle, representing the Entirety of our Being, the Connection to our Environment and of our entire Life.
I invite you to step into the center of your Life's circle and simply allow your wild tornado to swirl around you. In the center YOU will find your Inner Peace, Love and Joy. From that new vantage point you are ready to consciously create your desired life – step by step and breath by breath.
Walking your Inner Journey, the Path to your inner Center takes Courage, Determination, Openness to receive, Stillness, Respect, Love and a Step by Step approach.
I am committed to Guide you on your Path of Awakening to Balance and Harmony.
If that is what you are looking for, your soul is yearning for … you have certainly come to the right place.
What does Balance and Harmony mean to me? To experience Balance and Harmony throughout your life, you have to become aware of the Entirety of your Being and your connection to All there is. Everything is Energy and everything is connected. You are connected to Mother Earth with all the Elements (Fire, Earth, Water and Air). You are connected to the Cosmo with the Sun, Grandmother Moon and all the stars and planets. You are connected to Nature with the Rock, Plant and Animal Kingdom. We are all connected.
The Entirety of your Being is not just our visible Physical Body, but in includes your Subtle Bodies, which consists of various layers. The four main Bodies are:

Physical Body: The Relationship to your Health
Emotional Body: The Relationship to yourself and Others
Mental Body: The Relationship to your mind/thoughts.
The Relationship to your Finances, Career and desired Life experiences
Spiritual Body: The Relationship to your higher Self

What is my story? My name is Martina Kreiner and I hold a Master in Interior Architecture and Environmental Design. I have expansive expertise in all kinds of design, creation and refurbishment. Be it furniture, home, garden, and/or office refurbishment, I always love to connect with people, listen to their dreams and desires and create an aesthetic and functional solution for them. I offer a turn key solution from initial design creation to the manifested solution, with perfect after care and all in all nurturing a happy client. With passion I worked in this industry for more than 15 years, unaware that my outer refurbishment business will receive a total makeover leading me deep within my Self. At one point several years ago my life came to a grounding halt. I had no choice but to stop, surrender and look within. Out of this initial 'disaster' a new and different Martina emerged. A Martina now connected to her higher Self, walking her Inner Journey, revealing step by step, layer by layer the gifts that have been waiting inside and the purpose she had assigned herself for this lifetime experience.
On my Inner Journey I searched for answers within the different modalities I came across. Questions such as:
How to access my Inner Power?

How to look after my Energy body?

How to create space within?

How to be mindful with my thoughts?

How to let go of Energies (Emotions) no longer beneficial?

How to align the Heart and Mind connection?

How to align myself with my Environment?

How to open my Heart?

How to create a Daily Practice?

How to become and be a Creator?

How to fine-tune my senses and be aware of the Energy Flow?

How to connect to Guides, Power Animals, my Higher Self?

How to understand my Intuition?

How to know the connection to all there is?

How to know my purpose?
…. And so many more….
Some of my questions were answered, some of the answers raised new questions. I realized, that every answer to every questions already exists within me: 'I HAVE TO BECOME MY OWN MASTER! I have to belief in my own INNER POWER.' This knowledge and wisdom forms the base of the Guidance Program to Balance and Harmony.

The Power of a Story! On my Inner Journey a variety of gifts were and still are revealed to me. Due to opening myself up to new experiences and fully embracing my reinvention, I discovered the Intuitive Storyteller within me. I realized, I had been given a unique gift that allows me to retrieve and receive tales from other life times – of ANYONE – , with an accuracy of location, time, personality, age and the trapped emotion and energy.
As I walk my Inner Journey, raising my vibration and sharing my gifts, the understanding that everything is connected has become an Inner Knowing. A Knowing that we are all connected and everybody and everything has a story to share. We just have to be open to hear and receive it. I opened to channel Energies from Mother Earth, the Elements, Grandmother Moon, the Plant, Rock and Animal Kingdom and the entire Cosmo. These Energies flow through me in form of STORIES, what I call Healing Tales.
A story, a tale to occupy the logical mind to allow all energies present to flow with ease to their desired destination within you the listener.
Storytelling has been around for thousands of years in many of ancient cultures as a means of entertainment, education, communication and healing. Through Storytelling I have been guided to research and learn about the Native American wisdom. The depth of knowledge that is found in these teachings, supports my connection to all there is and grounds me deeply within myself and respectfully to Mother Earth.
Each product and program on the Healing with Tales website will support and guide you on your Inner Journey to Balance an Harmony. And a journey it is.
A journey to YOUR INNER POWER.

A journey to your INNER WISDOM.

A journey to connect with the Entirety of your Bodies (Spirit, Body, Emotion and Mind)

A journey to connect to Mother Earth, the Elements, Plant, Rock and Animal Kingdom

A journey to connect to the Cosmo

A journey to discover your own Daily Practice


A journey to retrieve the memory of your Lifetime Experience and to let go of the past

A journey to remember your purpose and who you truly are

A journey to experience what Balance and Harmony means to you
My Vision

Children are important!  Children are our next generation!  My vision and mission is to add my part to create a sustainable and loving environment that supports children as they grow up. To offer them opportunities, education, schooling and loving homes to share, expand and learn how to use the gifts they carry within. We all carry within.  I am the Author of the Series 'Your invisible friends: Buddy, Tickle and Red'. They form a starting point into my work 'A New World for Children'. Many more books and workshops are being born.

You are important! Each book, product and program on the Healing with Tales website has been created with the vision to support children, parents, future parents and grandparents on their Inner Path to a life in Balance and Harmony  – Step by Step, Breath by Breath.
~~~~~~~~~~~~~~~~~~~~~~~~~~~~~~~~~~~~~
 "Our deepest fear is not that we are inadequate. Our deepest fear is that we are powerful beyond measure. It is our light, not our darkness that most frightens us. We ask ourselves, 'Who am I to be brilliant, gorgeous, talented, fabulous?' Actually, who are you not to be? You are a child of God. Your playing small does not serve the world. There is nothing enlightened about shrinking so that other people won't feel insecure around you. We are all meant to shine, as children do. We were born to make manifest the glory of God that is within us. It's not just in some of us; it's in everyone. And as we let our own light shine, we unconsciously give other people permission to do the same. As we are liberated from our own fear, our presence automatically liberates others."
― Marianne Williamson, Return to Love: Reflections on the Principles of "A Course in Miracles"
 With love and gratitude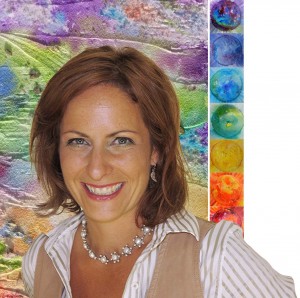 Martina Kreiner